How-to: Client and Event Dashboards
Your Client and Event Dashboards are chock full of useful information and features. We want you to get the most out of your ticketZone experience and our dashboards help you to do just that. For an in-depth explanation of your dashboards (how to read them, use them, enjoy them), read on.
Your Client Dashboard allows you to keep track of all your events (current and past) in one place. This includes financial details, marketing campaigns, and stats. Meanwhile, each event has its own dashboard, where you can see detailed information specific to that event. From the Event Dashboard, you can edit event details, view recent customer purchases, and create promo codes. We'll start by explaining the Client Dashboard in detail, then go through the Event Dashboard step-by-step:
CLIENT DASHBOARD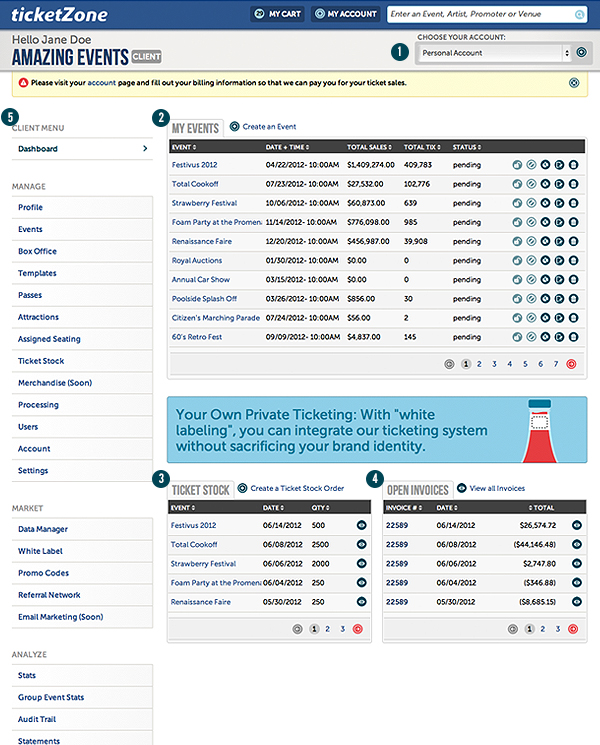 1. Use this drop-down menu to toggle between all your accounts. This includes your personal account, promoter account, and individual event pages.
2. The "Events" section of your Client Dashboard provides helpful information about all your events. Click on any event name to see its corresponding event page. This section also offers details including the total number of tickets sold per event, as well as total sales in dollars. Using the icons on the far right of each event name, you can edit event details or (if tragedy strikes) delete an event page. Ready to post a new event? Click "Create an Event" at the top of your Event tab to get started.
3. The "Ticket Stock" tab offers you a simplified report on past printed ticket stock. You can see the number of ticket stock printed here per event. You can always click the "eye" icon at the right of each event to see additional details. Click "Create a Ticket Stock Order" to place a request for new printed stock.
4. Keep track of your financial details all in one place. Your "Invoice" tab offers basic information regarding all your recent invoices. For more details, either click the "eye" icon on a specific event or click "View All Invoices" at the top of the tab.
5. The Client Menu is your new best friend. You can find links to everything you need here, from marketing features to users lists to account settings. We highly recommend you spend some time exploring these areas. For more in-depth details regarding specific features (like
white labeling
or
adding users
), see our other
how-to
 articles.
EVENT DASHBOARD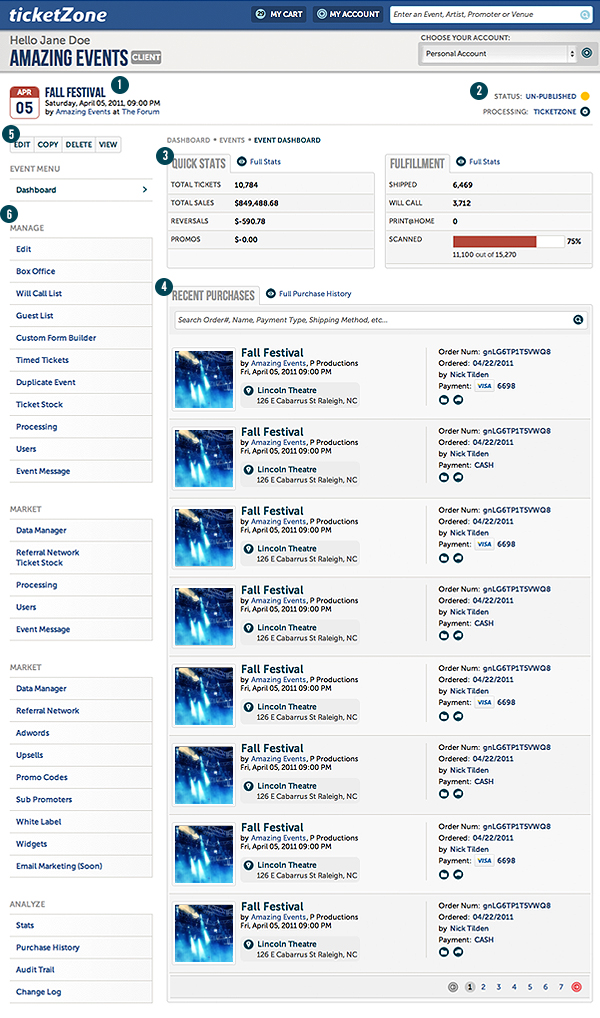 1. This section provides all the basic information about your event, including date and time, and it links to your Client and Venue Profiles.
2. Here, you will see the status of your event–whether it's active or unpublished. An "active" event means its tickets are available for customer purchase, while an "unpublished" event is available for your review but invisible to customers. Beneath the event status, you'll find your payment processing information–whether you are being paid directly through ticketZone or through PayPal–and a link to update this information if necessary.
3. The "Quick Stats" for your event offer you a simplified monetary and quantitative breakdown. You'll see how many tickets you've sold, how much money you've made, and details regarding any promo codes you've put in place. Next to "Quick Stats" you'll find our "Fulfillment" section. This area gives you additional details about customer purchases. You'll see how many tickets have shipped, and how many tickets have been allotted to will call. In both tabs, you can find more detailed information by clicking "Full Stats" next to the tab title.
4. Under "Recent Purchases", you can find details about your events' customers. This includes order number, ticket type, customer name, and type of payment (cash or credit). You can also search for specific customers by using the "Recent Purchase" search bar. Search by order number, name, even shipping method.
5. These convenient buttons make it easy to adjust your event. Edit event details, view your event, or click "copy" to use the same details and customization for other events you're creating.
6. Your Event Menu provides links to additional event features. Edit your event Guest List, send an email to all customers, or create promo codes. For more information on these features, take a look at our other
how-to posts.